21 Feb

Amanda's Holistic Therapy/Yoga Journey

Before becoming a Holistic Therapist, Yoga Teacher and Sound Healing Practitioner, I worked in the corporate world as the Personal Assistant (PA) to the Chief Executive at Kirklees Council.  This was a really stressful role, working long hours and I had never really been fulfilled working as a secretary/PA since leaving college and it was never really what I wanted as a career but I never knew what I did want to do. 

After working at the council for 11 years, we entered a period of austerity measures and cuts were made in government funding and grants and the council had to make savings running into the hundreds of thousands of pounds.  After making drastic cuts to front line services, it was time to look at saving money through back-office staff and one thousand people were made redundant across the whole council.  Our service also went into review and it was a very challenging and uncertain time.  It was clear that we would be in a permanent review and staff were being asked to think of a plan B.  They council were very supportive and brought in personal speakers who suggested that if we were to be made redundant, to think of it as a positive rather than a negative as we may end up doing something we enjoy more than our current role.  So I went away and thought about what I would like to do.  I'd lost my dad to prostrate cancer and rather than resorting to medication with its nasty side effects, I began going to meditation classes to manage my stress and mild depression and thought how I'd love to teach mediation myself so I began researching Holistic Therapies and made the decision to enrol on an 18 month part-time Level 3 Complementary Therapy course whilst continuing to work in my full-time role which was extremely exhausting and challenging but I was determined to complete the course.  I became fully qualified in February 2017 and made the decision to get out of the rat race and took voluntary redundancy at the end of March 2017 which was an extremely brave decision to make leaving a secure, well paid job.

My yoga journey began eight years ago after picking up a knee injury and being advised by a physiotherapist to take up either yoga or pilates.  I had always been a keen keep fit enthusiast and was intrigued to try out this new form of exercise.  I attended a Hatha yoga class and from that moment on,  I was hooked and loved the strength, stability and flexibility that the asanas (postures) created. Like many people, I hadn't realised that there was more to yoga than just asanas and began to develop a passion for pranayama (breath work) and to continue my love of meditation and was fascinated with how connecting the mind with the body, breath, emotions, soul and spirit could have such calming and on other occasions energising effects on the body.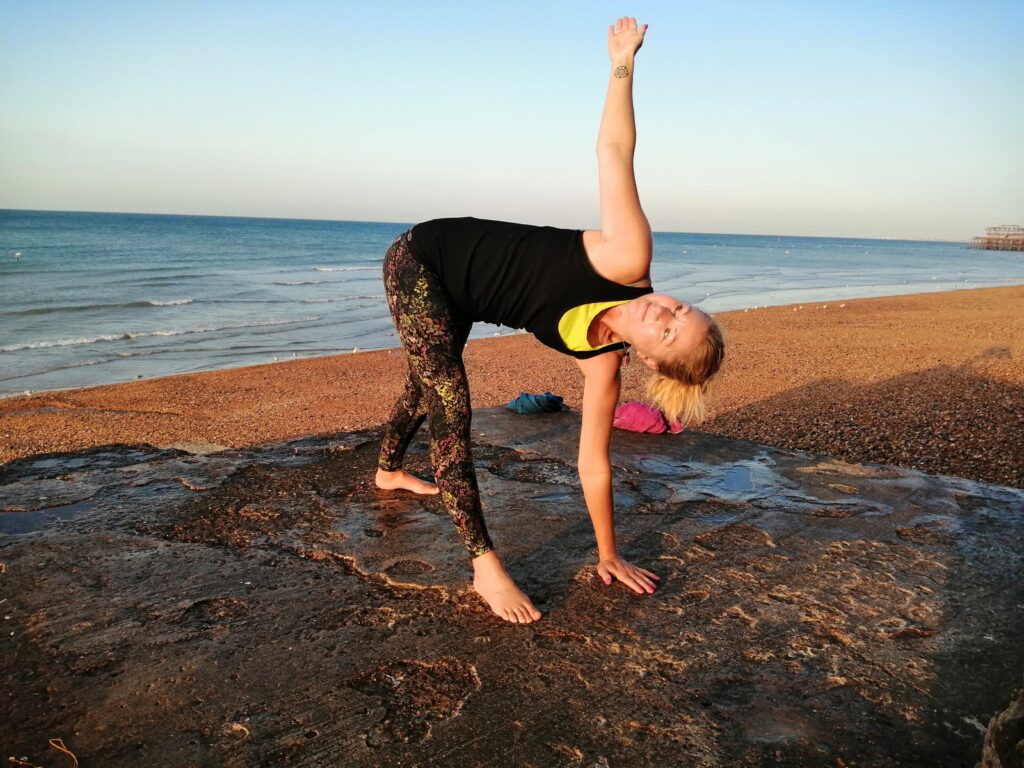 Yoga was my lifeline when I separated from husband of 24 years about six years ago and the meditation in particular taught me how to connect with my inner-essence and my higher self and I embarked on personal journey of self-discovery, self-healing and self-love. I remember thinking how I'd love to teach yoga so I could pass my knowledge and skills onto other people so that they too could reap the benefits yoga provides.
As my passion for all things yogic grew, I took the decision to apply for a 200 hour Yoga Teacher Training Diploma with Yogacampus and was delighted to be offered a place on the June 2017 York intake and be given the opportunity to follow my dream of teaching yoga which complements the holistic therapies perfectly. I have now completed the course and became fully qualified in December 2018.
Yoga has developed my self-confidence so much so that I'm now able to teach a class of up to 25 people. Only a couple of years earlier, it had been my worst nightmare in my previous leadership role at the council to deliver a presentation in front of a room full of people.
I'm passionate about being able to equip people with the tools and techniques yoga provides so they too can use them as a mechanism to help them deal with the stresses, strains and challenges that life can all too often throw at them. For me, yoga isn't about the destination but about the journey and I firmly believe that yoga is for everyone. What I learn on the mat, I take into my daily life off the mat and I have grown into a kind, loving, peaceful, joyous and compassionate person and I feel truly blessed that I've been given the opportunity to spread those attributes out into the world through my teachings.