Location:
Denby Dale, Huddersfield
and also
Urban Escape, 8 Station Street, Huddersfield, HD1 1LN on Wednesdays between 9am and 8pm

Email:
amanda@puravidaholistics.co.uk
Telephone: 
07931 739452
Follow us:
LOYALTY SCHEME
Don't forget to get your Pura Vida Loyalty Card when you visit – pay for five treatments and you get your sixth treatment free!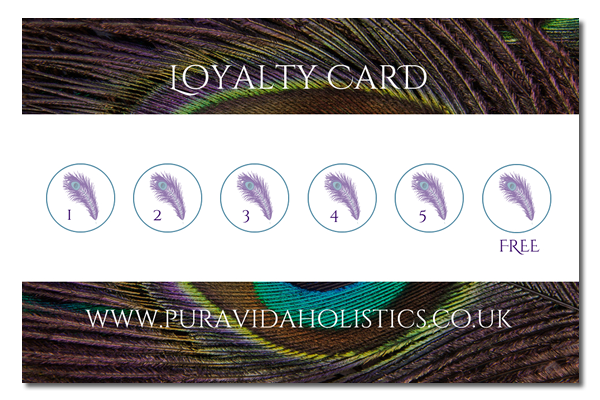 What time should I arrive for my appointment?
For your first visit, please arrive 15 minutes before your first appointment to allow sufficient time for your full consultation to be completed prior to your treatment.  If you are late, this may result in time being deducted from your treatment.
Is there anything I need to make you aware of prior to my treatment?
Yes, please let us know of any existing condition or illness prior to your treatment.
Can I bring my own music with me?
Yes, you can bring your favourite relaxation CD or headphones are available if you would like to listen to your own music during treatments on your phone or IPad.
What if I need to cancel or reschedule my appointment?
If you need to cancel or reschedule your appointment, please allow at least 24 hours' notice. If less than 24 hours' notice is received then a cancellation charge will be applied of £20.00.

Policies
Privacy Policy
Cookies Policy